'The Pitz'
A Fan's Website Tribute to Milton Keynes'
Home of the Best Live Music
The New Year kicks off with a bunch of some of the best bands around... here's the current line up replete with websites so you can find out more:
January
Wednesday 29th The Alarm MMIII+ Guests
The Welsh pop-punk crossover band launch their 'Poppyfields' tour and while the line-up has changed a bit since when I saw them support U2 at the Hammersmith Palais back in 1982, fans are in for a treat. Expect a fine blend of songs from the new album plus the old favourites.
This tour features original lead singer Mike Peters along with Steve Grantley (formerly of Stiff Little Fingers), Craig Adams (f/o The Mission) and James Stevenson (f/o The Cult). Three more good reasons to get a ticket I'd say.
Meanwhile, why not visit their website to view some video footage of the band in their heyday.... great songs and great barnets!

Friday 31st Overgrown Eden Tour: inME + Guests
UK rockers InMe's 'Overgrown Eden' tour kicks off at The Pitz! Recently featured on the cover the world's best rock mag, Kerrang!, InMe will be playing tracks from the new album - if you have yet to hear them check out the MP3 of Neptune on the website.
A new version of "Crushed Like Fruit" came out in the UK on January 6th on two formats - see their offical website for full details. InMe are Dave McPherson (20)/vocals & guitar, Joe Morgan (20)/bass and Simon Taylor (18)/drums.
February
Saturday 8th Limehouse Lizzy + Guests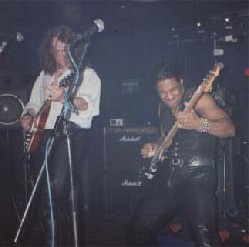 Welcome back to The Pitz for the best tribute to one of the best 70s rock bands, Thin Lizzy. No tracks available to hear online I'm sorry to say but who out there cannot have a favourite Thin Lizzy tune? But visit the site anyway where you can avail yourself of photos of the band in action, tour details as well as buy sounds and videos.
Not surprisingly, LL were formed in Limehouse, East London - in early 1993, and since then they have accomplished a staggering amount in a short space of time. Extensive touring in the UK and all over the world, has earned them a fiercely loyal collection of fans globally, as their now international mailing list of over 4000 will attribute. Not that surprising a fact when the band are regularly hailed as the best Thin Lizzy tribute around by press and admirers alike. As their website attests, such praise has not been lightly earned by Limehouse Lizzy.... now read on…

Thursday 27th Tuuli + Guests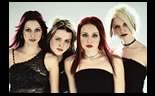 From the USA, Tuuli come to our shores to promote their new album 'Here We Go'. Formed in 1997, says their bio, Tuuli is bassist Claire Blake, guitarist Dawn Mandarino, guitarist/vocalist Jenny MacIsaac and drummer Jen Foster: 'Tuuli radiate pop creativity with a punk rock attitude'.
I had never heard of them I am sorry to admit but a listen to some of the tracks available on their website and mp3.com quickly convinces you they will be an exciting live band. They remind me of such worthy predecessors as The Go Go's and Runaways.
Friday 28th The Hamsters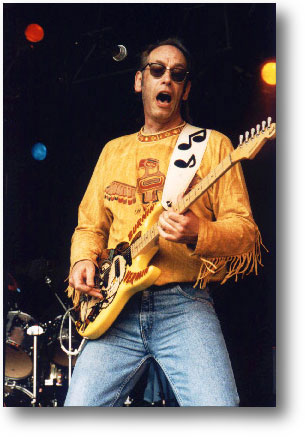 One of my all-time favourite live bands, don't be fooled by the name, the Hamsters rock! Combining solid traditional electric blues with showcase renditions of Hendrix and ZZ Top, the Hamsters are un-missable.
One of the other endearing qualities of The Hamsters is their philosophy, to quote Slim, "We're not asking for fawning respect, just acknowledgement that other forms of music exist outside the usual outlets - if they can do it abroad, why not here? We don't have time to go to the right places, networking and courting the right journalists. We don't have a publicist and an entourage to do this for us. We're just three hardworking geezers who get out there and play our arses off... we've come out of nowhere and, with next to no help whatsoever, have built a national following. The Feelgoods are some of the few people who've helped us, and Chris Fenwick, their manager, reckons we're achieving the impossible." Right on, long may we be able to enjoy their unique brand of rock - musicianship and a passion for what they do all tempered with a sly sense of humour of not taking themselves too seriously.
You used to be able to download some tracks for a listen but I see they have taken them off their website downloads... shame because it included one of my faves the old Mickey Jupp chestnut 'Junk in My Trunk'... So you will have to take our word for it that the annual return to The Pitz is worthy of your time - where else are you likely to hear 'Sharp Dressed Man' alongside 'Voodoo Chile' and closer to home blues rockers like 'Show Me' or 'Blonde Ambition' as featured on the band's latest CD 'They Live By Night'.... I got it for Xmas and can vouch for its playability and humour.
March
Saturday 8th Motor City Josh + The Big 3
More blues rock but this time from the land of the blues, the USA. Now, I am confused because I couldn't work out if this was one or two bands, the lead singer might be called Josh perhaps? Seriously, this quartet hails from the East Coast, leader Josh Ford (how appropriate!) from Detroit (but now in Atlanta) backed up by Caleb Ford (guitar), Damien Lewis (drums) and Dustin Sargent (bass).
You can hear wma samples of their music at their record company's website Outdoor Records. To intrigue you further, they say, to quote: "What could be better than eleven humorous, all original down-home blues songs about freshwater fishing?" Indeed!
Read all about them at their website... recently an oddly-named chap had this to say about them: "Seeing Motor City Josh (Ford) and his band live is like riding on a Mississippi river boat during a storm. The rhythm section churns the waters like a paddle wheel and Josh's guitar brings on the lightning. He extracts sounds from his Fender Telecaster like a mad surgeon who knows exactly what he's doing, but is having a little too much fun doing it. As a man who has shared the stage and or opened up for such Blues greats as Buddy Guy and members of Albert Collins' Band The Ice Breakers, Motor City Josh isn't shy about infecting Atlanta with his own contagious Blues style."
So now you know what to expect. The Pitz will be the second date of their first UK tour and will no doubt feature stuff from their album 'Stringer Full of Blues'.
---
Booking Details:
The Pitz venue is the Woughton Centre in Milton Keynes, the address is:
Rainbow Drive
Leadenhall
Milton Keynes
Buckinghamshire
MK6 5EJ UK
Telephone for tickets or band booking info: 01908 660392.
A map of how to get there can be found at the ENTS24.com website.
---
For Further Listening Enjoyment....
Please come back and visit for news of other upcoming concerts for the rest of the year.
This website will be updated frequently bringing you news of gigs and other happenings at the Pitz... look out for the 2003 'Band Blitz' which we hope will be even more exciting than 2002's.
Afore we go for your further listening pleasure may we recommend 'local' talent such as:
The Fozz - saw this fine trio as support to Stiff Little Fingers and my were they good, their mp3s don't quite do them justice as a live act. Let's hope they can soon headline at The Pitz!
Dog Toffee - saw this unmerciful power rock band from Manchester as support to The Wildhearts... enough said!
Finally, for now, take a look at the website of the 2002 Band Blitz contestants such as Cleanbreak and the winners' website, Blindside.
More MK bands - though some no longer exist - can be found at MP3.com or you can visit CityNights for a more up to date list.
This site is all unoffical with no affiliation with anyone, Roy Szweda, January 2003